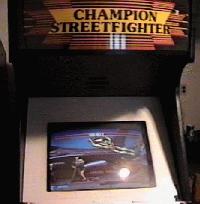 In Episode 129 of You Don't Know Flack, I talk about the collection of arcade games (six, in all) that I owned back when I lived in El Reno, Oklahoma. These were the first six arcade games I owned, all of which I sold when I moved out of state. The six machines were: Elevator Action, Mat Mania, Shinobi, Street Fighter II – Championship Edition, Power Instinct 2, and Star Wars.
[Sponsor Link!]
This episode was sponsored by Hexcrasher. Check out Hex's website and forum over at ArcadePerfect.net, and follow Hex at @Arcade_Perfect on Twitter for blog updates and arcade-related news!
[Links]
Here's a list and photos of every arcade game I've ever owned.
Here's my son's first Scratch project I mentioned.
Check out another great podcast, the Adventure Club Podcast.
You Don't Know Flack's Official Forum
You Don't Know Flack's RSS Feed
You Don't Know Flack's iTunes Feed
You Don't Know Flack's Facebook Page
You Don't Know Flack's Voice Mailbox: 206-309-9501
A mirror copy of this episode is located at the Internet Archive.
Podcast: Play in new window | Download