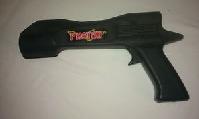 Episode 112 is all about Photon: The Ultimate Game on Planet Earth. Laser Tag was a big part of my teen years and I could talk about it for days … or at least 61:08 minutes.
[Links]
My pictures of Photon
My YouTube Photon Videos
LightSport (The Photon/Laser Tag Documentary)
Jim Strother's Photon Site (Where I got the Photon CD)
Join our forum at TheGasChamber.robohara.com
A mirror copy of this episode is located at the Internet Archive.
Podcast: Play in new window | Download